Venice is one of the most beautiful cities in the world, but it's also notoriously pricey. With many of the main sights situated around the popular Saint Mark's Square, it's tempting to sit down in the eye-watering expensive bars and restaurants and to stay as close to the piazza as possible. But a visit to Venice doesn't have to cost an arm and a leg. Here are some handy tips and tricks that will help you save money in the floating city.
---
Where to Stay for Cheap in Venice
Something to think about for when searching for accommodation in Venice is whether you want to stay in the city itself (which will inevitably be more expensive) or to stay on the mainland, in Mestre. Mestre is the most populated area of the municipality of Venice, and it's where most people working or living in the area reside. Because it's outside the centre (and not built on water!), staying in Mestre is a great way to save money.
Mestre
Within Mestre there are plenty of hotels, hostels and Airbnb options to choose from, and there are also campsites nearby that cost even less. Public transport between Mestre and Venice is frequent, with regular buses and trains running between the two areas. Both take around 15 minutes, but they tend to be very crowded, especially first thing in the morning and late at night. It's worth bearing this in mind and weighing up your options – if you want to be out sightseeing for long days, you might prefer to stay in Venice itself to avoid the crowds.
Within Venice
If you do want to stay in the Venice city centre, then avoiding the key tourist areas around the Rialto Bridge and Piazza San Marco is crucial for saving money. There are a few cheap hostel options in the city, and it's often possible to find good deals on Airbnb, especially if you're happy to stay in someone's home.
If a private room is a must, it's worth looking in the Giardini ('gardens') area of Venice, made up mostly of a large park; this is where most real Venetians live. It's a little out of the centre, but accommodation is much cheaper and it's easy enough to reach the main tourist attractions on public transport.
---
How to Get Around Venice
If you do decide to stay in Mestre, you'll need to factor transport into your budget. The good news is that buses directly into Venice don't cost more than a couple of euros each way, and a single on the train costs just €1.35.
Gondolas
Getting around the city itself, however, is a little more costly. Gondolas, while very romantic, are never used by locals to get around – they really only run for tourists, and there are fixed prices: a private 30-minute gondola ride will cost €80, and this price will only increase if you plan to go at night or if you want to be serenaded by your gondolier. If you want to experience a gondola without the hefty price tag, consider taking a traghetto, a kind of larger gondola that will allow you to cross the Grand Canal at certain points for just €2 – as long as you're happy to stand up and share your ride with strangers!
function loadScript(url, callback){var script=document.createElement('script'); script.type='text/javascript'; if (script.readyState){script.onreadystatechange=function(){if (script.readyState=='loaded' || script.readyState=='complete'){script.onreadystatechange=null; callback();}};}else{script.onload=function(){callback();};}script.src=url; document.getElementsByTagName('head')[0].appendChild(script);}loadScript('https://cdn2.civitatis.com/js/vendor/iframeResizer.min.js', function(){iFrameResize({checkOrigin:false,initCallback:function(iframe){setTimeout(function(){var resizeEvent = window.document.createEvent('UIEvents'); resizeEvent.initUIEvent('resize', true, false, window, 0); iframe.dispatchEvent(resizeEvent);});}})})
Water buses and taxis
Water taxis are also a popular choice for navigating the city, and you'll probably feel like a film star as you jet off to your destination in these speedboats. But be warned: water taxis cost a small fortune in Venice, and if you're travelling alone or as a small group, there are definitely cheaper options available.
The vaporetto, or water bus, is a good option. Single tickets are still not cheap, costing €7.50 per ride, but there are more cost-effective tickets which exist to help out tourists and locals. Depending on the length of your stay, you can buy 24-, 48- or 72-hour tickets (also valid on all buses between Mestre and Venice – but not airport buses), or tickets lasting a full week.
Venezia Unica card
If you're planning on staying even longer, it may be worth investing in a Venezia Unica card. You pay a hefty sum upfront for a card (prices vary depending on where you live – locals get the best deal and non-Italians pay the most), but you can then load it up with €1.50 singles or monthly passes. Cards last up to five years, so if you're planning multiple trips to Venice, this will definitely save you money in the long run.
Walking
The cheapest way to get around Venice is, of course, on foot. If you're staying in Venice itself and are planning to be there for more than a couple of days, walking around this beautiful city is a fantastic way to get from A to B. Venice is a maze, so you'll almost certainly get lost repeatedly, but getting lost in Venice is something that should be on everyone's bucket list. This is the best way to explore the city; it will allow you to stumble upon charming canals and bridges, and to see Lady-and-the-Tramp-style washing hanging high above your head as you roam around. If you have the time to spare getting lost, tackling Venice on foot is the best way to experience this wondrous city.
You may also like:
Free Walking Tour of Venice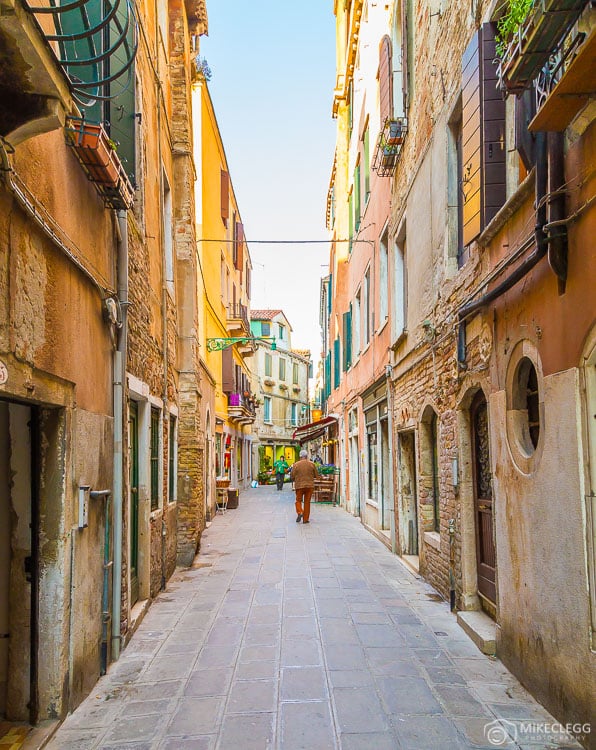 function loadScript(url, callback){var script=document.createElement('script'); script.type='text/javascript'; if (script.readyState){script.onreadystatechange=function(){if (script.readyState=='loaded' || script.readyState=='complete'){script.onreadystatechange=null; callback();}};}else{script.onload=function(){callback();};}script.src=url; document.getElementsByTagName('head')[0].appendChild(script);}loadScript('https://cdn2.civitatis.com/js/vendor/iframeResizer.min.js', function(){iFrameResize({checkOrigin:false,initCallback:function(iframe){setTimeout(function(){var resizeEvent = window.document.createEvent('UIEvents'); resizeEvent.initUIEvent('resize', true, false, window, 0); iframe.dispatchEvent(resizeEvent);});}})})
---
Where to Find Cheap Food and Drink in Venice
Venice does not have the same reputation for food and drink as the rest of Italy, and many people believe that the city has some of the worst food in the country. These people are wrong! It's very easy to fall into tourist traps in Venice, and eating badly is certainly easier than eating well. An Aperol spritz in Saint Mark's Square will cost you upwards of €20 – with an extra surcharge if the bar you've chosen has a band playing.
But there are also incredibly cheap options if you want a drink or something to eat. Many bars with no seating, such as Bacareto da Lele, located halfway between the bus station and the main student area, offer glasses of wine for less than €1. Most of these bars also serve bargain snacks or light bites, such as taglieri (meat and cheese boards) and sandwiches.
A fantastic way to eat lunch on the cheap in Venice is to go to cicchetterie – bars that serve cheap wine and cicchetti (pronounced chi-KEH-tee), small pieces of crusty bread with different toppings. Often referred to as Venetian tapas, this is an easy way to sample a variety of Venetian delights without spending too much.
Student area
Bars around the student area also offer excellent deals on food and drinks. Campo Santa Margherita is a lively square at all times of day and night, with bars and restaurants offering amazing happy hour deals and cheap eats. Have a spritz for €3.50 and grab a slice or two of takeaway pizza for not much more.
Cheap coffee
If you're really keen to have something to drink in one of the more famous spots, such as Caffè Florian in Saint Mark's Square, the oldest café in the world, then have a coffee at the bar. All across Italy, prices at the bar are far lower than prices at the table, where service and experience are factored into the price. If you sit down at a table in Venice, they are free to charge you whatever they deem appropriate, but coffee prices at the bar are fixed, and you shouldn't be charged more than €1.10 for an espresso anywhere in Venice. This is a great way to have a cheap coffee and still experience luxury!
---
Sights to See and Things to Do
Venice is a wonderful place to wander around, and while there is a huge amount to see and do, simply meandering around the backstreets and bridges will be enough to leave you enamoured.
As a bonus, though, many of the museums and galleries in Venice offer huge reductions in price if you're from an EU country and under the age of 25 – the Doge's palace, for example, charges €12 less if you're one of these lucky people. This means that sightseeing in Venice can be brilliant value if you're young and European, and it's worth making the most of these discounts while you can!
Free and cheap things to do in Venice
If you don't fulfil one of these categories, fear not – there are still plenty of free and cheap things to do in Venice. In fact, many of the top sights don't cost a penny.
Walking across two of the most famous bridges in the world, the Ponte Rialto and the Ponte dell'Accademia costs absolutely nothing, and you'll be rewarded with picture-postcard views. Visiting the Basilica of San Marco is also free (be prepared to queue!), as is wandering around the historic square itself.
If you want to see some great art but don't want to stretch to the entry fee of the Accademia museum, there are a number of churches housing incredible works of art – Titians, Tintorettos and Bellinis, to name just a few. Most charge €3 entry or you can buy a Chorus Pass for €12, which gets you into 15 of them and is valid for a whole year.
Another free thing worth doing is to go up to roof of the Fondaco dei Tedeschi. This building, the fifteenth-century residency of German merchants in Venice, is now home to a pretty expensive department store, but you can go up onto the roof for free if you book ahead online. Take the lift up to the top floor and get a breath-taking view of Venice – you'll come out right above the Rialto Bridge on the Grand Canal. And of course remember to take your camera.
You may also like:
10 Top Instagram and Photography Spots in and Around Venice
Note: Prices mentioned may change since publishing.