The winter is not many people's favourite month. However, if you've ever been to the mountains and seen it covered in snow, or have previously enjoyed the pleasure of skiing and snowboarding then you may even be looking forward to it. The winter months can be a fantastic time and when the ski resorts across Europe and beyond open up, then millions of people begin flocking to the slopes.
If you're travelling from the UK then here are some of the best companies to book your next ski holiday.
---
Top Ski Tour Operators
Skiworld
Skiworld is the largest independent ski operator in the UK. They have been taking thousands of keen skiers and snowboarders to the mountains since 1982, and cover top mountain destinations across Europe and North America.
A few of the holiday options you'll find include self-catered chalets, apartments, self-drive and various other types of ski holiday. Many of their deals come with flights and transfers included and as well as this you'll have the option of adding your equipment and ski pass to your booking. This is in the form of Ski-All-In.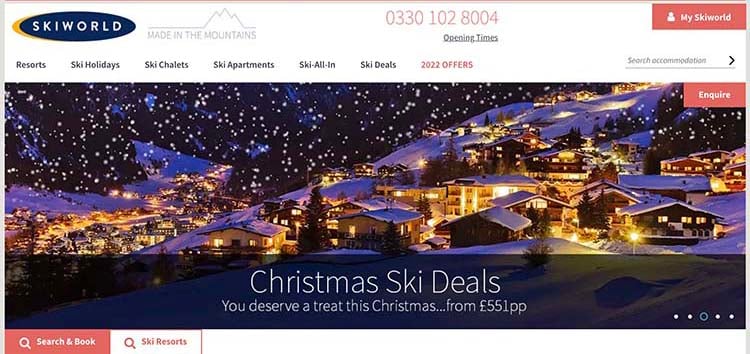 Crystal
Crystal is a well-known ski operator in the UK and is part of TUI (a huge travel brand). They provide winter holidays to over 100 resorts across Europe and North America. Most of their holidays include flights, accommodation and transfers with the option of adding extras such as your lift pass, ski hire (or carriage). Crystal have been sending people to the mountains for over 40 years and are definitely a top choice for your ski holiday.
One thing we really like about Crystal is the user experience on their website, which provides an enjoyable booking experience.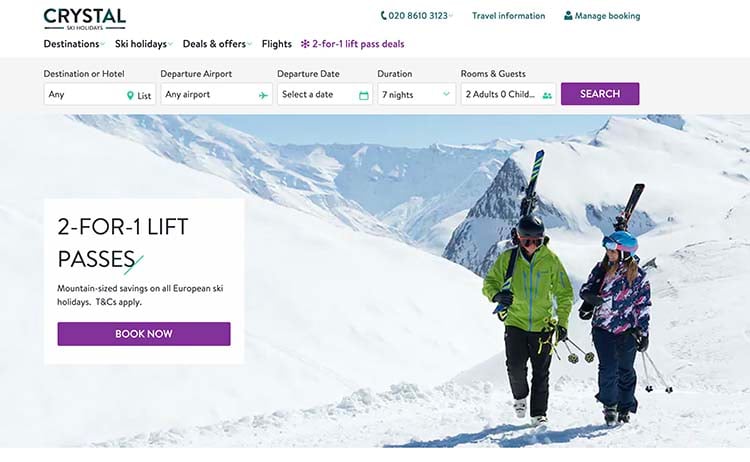 Scott Dunn
Scott Dunn is a high-end holiday company offering not just ski holidays, but other types too such as beach and safari. They are more of a luxury brand so the prices aren't cheap but the quality and standard of accommodation and customer service will be polished and perfect. With Scott Dunn you'll have the option of ski hotels, private chalets, and you'll also find unique and custom itineraries where you could visit multiple places, which may even be cities and beaches during your trip.
Whether you're thinking of going somewhere in Europe, North America or even Japan, if you're after the ultimate luxury ski holiday then then check out Scott Dunn and see what options they have.
Scott Dunn also offers luxury extras during your trip, such as heli-skiing, which would be an ultimate winter experience.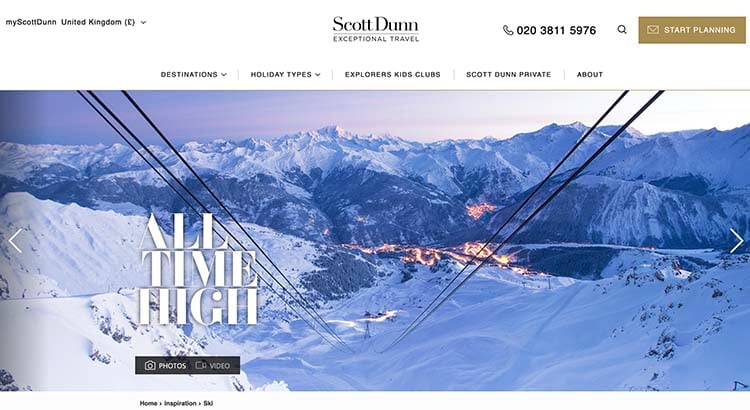 Neilson
Neilson offers both beach and ski holidays and when choosing a winter destination you'll find options including popular resorts in France, Austria, Andorra and Italy. Accommodation includes options such as catered chalets and hotels.
Neilson also have a "Mountain Collection" which is their top accommodation choices and these are exclusive to them. They include both chalets and hotels and come with extras such as breakfast, evening meals, afternoon tea, ski guiding and other perks.
Ski Solutions
Ski Solutions have been operating for over 35 years and offer holidays to 145 top resorts in Austria, France, Italy and Switzerland. They include a range of accommodation including chalets, hotels and apartments and also offer tailor-made options where you can have a customised holiday such as a short break, include city stopovers, or flexible flight times.
Another great thing we like about Ski Solutions is that they are committed to being sustainable and offering eco options, so you'll be able to find eco-friendly hotels and other options to help minimise your impact when you travel.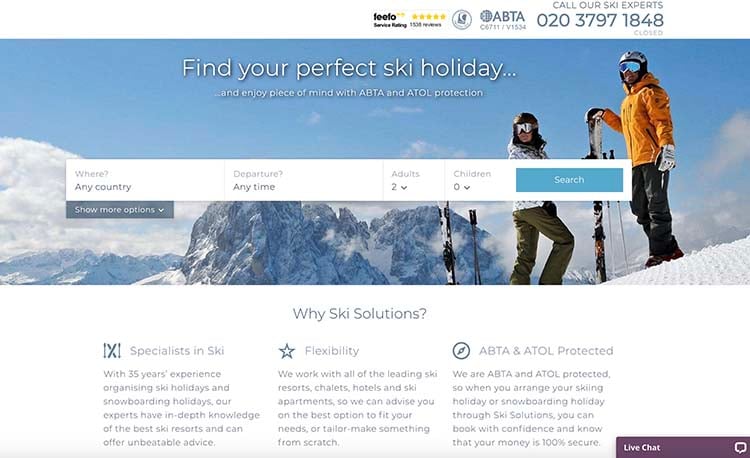 Inghams
Inghams are one of the oldest ski operators from the UK and serve locations all over Europe, as well as Canada. You'll find options such as Finland, Switzerland, Andorra, Austria, France and Italy and offer options such as short breaks, group holidays and even cross country ski holidays. As well as this should you prefer not to fly then you can self-drive or take the train to your chosen resort.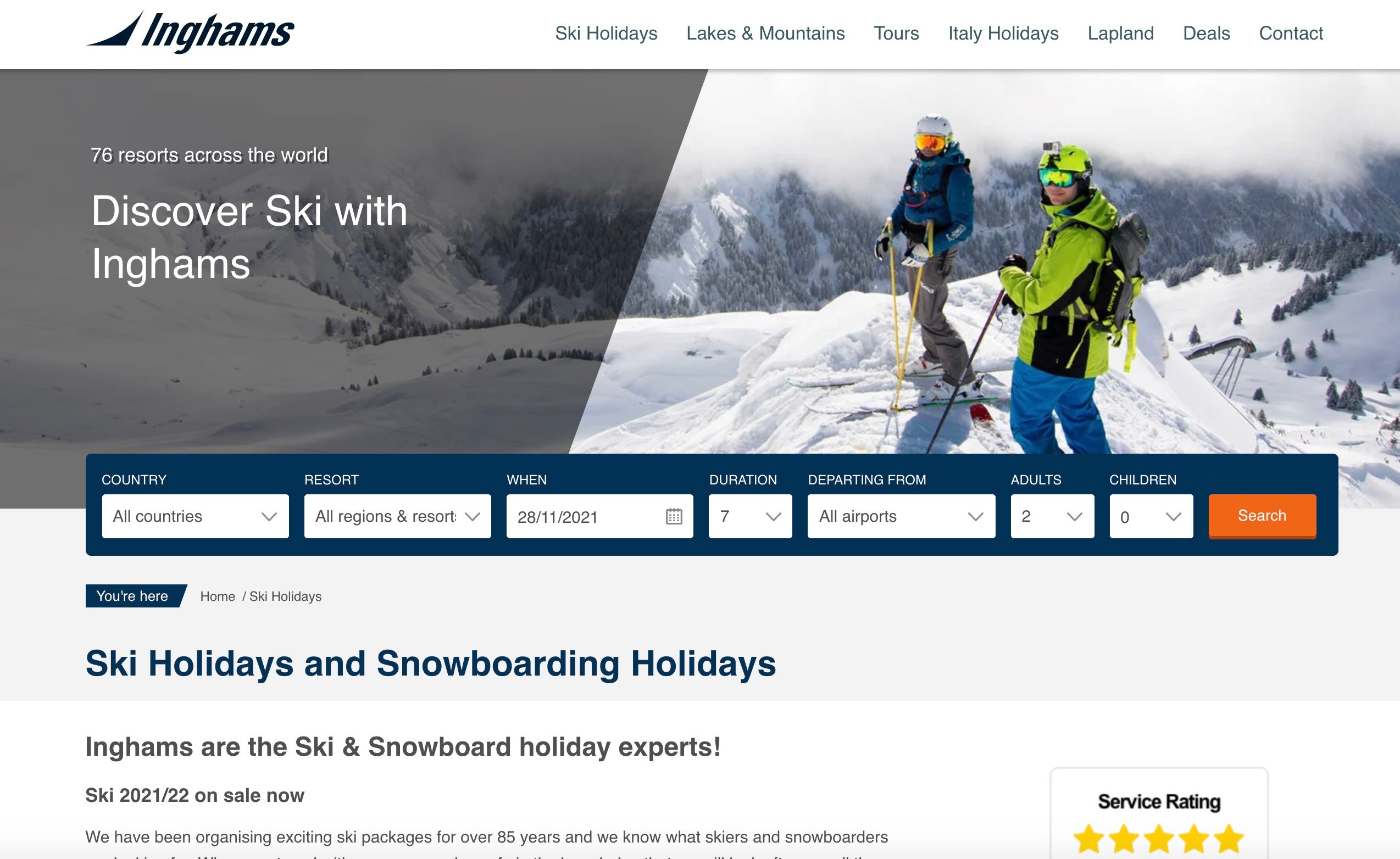 Alpine Elements
Alpine Elements offer both winter and summer holidays. They don't offer the largest selection of resorts but certainly include some of the best, such as La Plagne, Meribel, Morzine, Tignes and Val d'sere.
Accommodation options include ski chalets, hotels and apartments and many packages include your flights and transfers.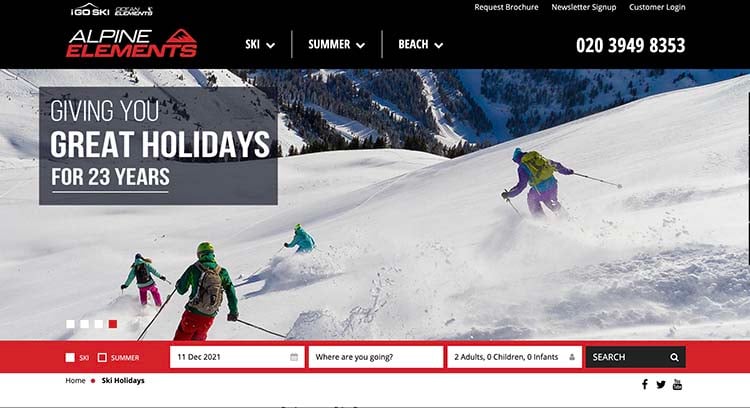 ---
Ski holiday Comparison Sites/Agents
Iglu
Iglu Ski would be a top choice if you're wanting a large choice of ski holiday options. They work with 60 ski operators in the UK so as to help you to find the best prices and holidays.
Within their portfolio, they can help you to find a holiday to over 140 ski resorts across 14 countries. They also help you to find top deals such as for your lift pass or last minute offers.
As well as this they also have a team of experts on hand who you can speak to, so as to discuss your holiday and requirements and find that perfect ski holiday for you.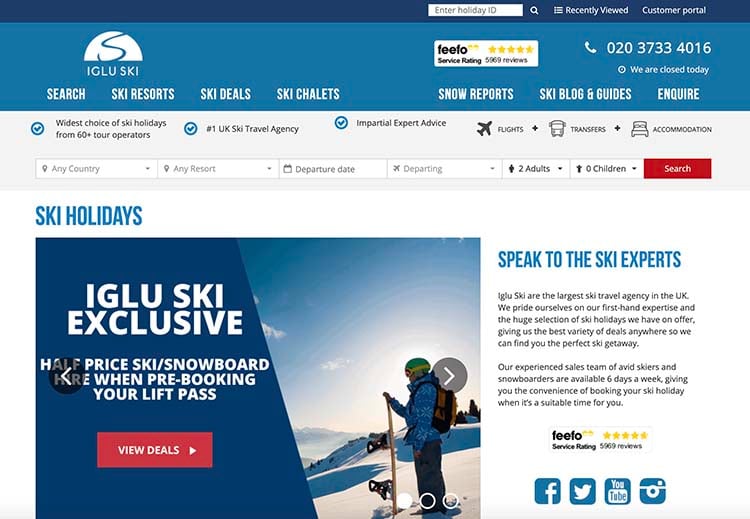 ---
Common Questions
Things to know when booking a ski holiday
Some of the important things to remember when booking your ski holiday includes:
Transfer time: The transfer time from the airport to the resort for many destinations can sometimes be several hours. Especially if you're travelling with kids you should bear this in mind. Sometimes the roads can be pretty unpredictable too due to the winter weather meaning there can also be delays.
Necessary extras: If you're going on a ski holiday

to ski

then you'll be needing a lift pass and equipment. The cost of which can add hundreds to your trip. Read our article for more information: Ski Holidays: What Are the Costs?
Types of ski accommodation: There is a variety of ski accommodation that you could choose for your holiday. These can include chalets, hotels and apartments and each come with different features and benefits. Read more about ski accommodation.
Pistes: Most resorts offer runs that cater for skiers and snowboarders of all levels. However, you will find some resorts that offer lots of black runs (the most challenging), whilst others offer lots of greens (great for beginners). Depending on your level you should pay attention to the number and variety of pistes (runs) that the resort offers.
ABTA/ATOL protection: When booking a package holiday (from the UK) this is a must. It provides you with financial protection and means if your tour operator fails then your money is protected and you can get your money back.
How do I find the cheapest ski holiday?
To find the cheapest ski holidays you have a few options. These include:
Travelling outside of peak weeks: These include Christmas, New Year, February Half Term and Easter. To find these dates look on the UK Gov website or look at the dates mentioned on the ski operators website (as they like to sell holidays during this time).
Get a last-minute deal: As the ski season gets really close ski companies will be trying to fill their beds. To do so they often heavily reduce their prices. These deals can be snapped up very quickly though so keep that in mind.
Travel at the start or end of the season: As well as avoiding peak dates you could also travel at the very start or end of the season. This means the snow may be more unpredictable if you book in advance, but if you book last minute you may get some luck.
Travel in a group: By travelling in a group you'll often be able to get an entire chalet or apartment and may also benefit from group discounts. Most ski companies offer these types of offers.
Buy a holiday in the sale: Some of the best times to get cheap ski holidays is in sales. These include Black Friday, Boxing Day, January Sales and Last Minute Deals. Throughout these sales you should be able to get great prices.
What should I know if I'm a beginner?
If you're completely new to skiing then here are a few things we'd recommend:
Have lessons: Be sure to have lessons before you travel at a local indoor slope or dry slope, but also when you're at the ski destination. When in the mountains you could always have lessons in the morning then hang out with your friends in the afternoon.
Don't push yourself too hard: We'd recommend not pushing yourself too hard. So although skiing can be very exciting when you first get on the mountains, if you feel tired then it's sensible to just call it a day.
Take lots of breaks: Also be sure to take lots of breaks during your first time on the pistes. By this we mean at a minimum you should have a morning, lunch and afternoon break. Also, every now and then feel free to stop safely somewhere up the mountain and take 5-10 minutes if you need it.
Avoid the most difficult runs: We'd also recommend you avoid the toughest of runs. These would normally be marked as Red, Black or Diamond. If you did somehow end up one of these, then take your time and go down really slowly.
Stick with others: Especially if you're travelling far on the mountain and beyond the green slopes then you should definitely always try and have a friend with you, just in case you get stuck or into any trouble.
Can you go on a ski holiday without skiing?
Yes, of course, actually you could go just for the experience of visiting the mountains and enjoy the fresh alpine air. Many ski lifts such as bubble/gondolas lifts can take you up to the mountain without equipment. At some resorts you can get all the way to the highest point (which may be a glacier) by doing this. Sometimes there are mountain restaurants and bars too which can be a great way to spend your afternoon, especially if it's nice and sunny.
Should you buy ski equipment or hire?
If it's your first ski trip or you don't think you'll be going often then consider just hiring. Also don't feel you have to have the highest level offered (which may be platinum). Often silver or even bronze will be just fine. If it's not your first ski trip and you think you'd be going skiing or snowboarding every season or for several weeks, then you may want to hire as it is nice to have your own equipment.
---
Summary
Ski holidays are a fantastic way to enjoy the winter and although these types of trips can be expensive and it can take a while to get started, once you're there you'll understand just why these holidays are completely worth it. The suggestions of UK ski companies above should help you find fantastic holiday options to help you maximise your winter and have a wonderful trip away.
(function() { window.mc4wp = window.mc4wp || { listeners: [], forms: { on: function(evt, cb) { window.mc4wp.listeners.push( { event : evt, callback: cb } ); } } } })();