A guided tour in South America can offer some of the best experiences when you travel. The tour may include an itinerary packed with highlights and things to do around the country (or countries) that you're visiting. As well as this you may get almost everything included, such as transport, entry into attractions, guided tours, accommodation, meals and more. Another big plus of guided tours and itineraries is that they often come with a specialist guide who knows the destination well. This results in you having a nice easy stress free trip, and you'll learn about the destination too.
Here are some of the best-guided tours and itineraries to consider for South America.
Disclaimer: Maps, descriptions and details provided via G Adventures. The details of these itineraries may change since publishing, so please fully check G Adventures before booking to make sure the tour offer exactly what you want and expect.
---
Guided Multi-Destination Itineraries for South America
Here are some top itineraries that you might like for South America and covering a variety of exciting destinations.
Lima to Rio: Coast to Coast
If you have the time and can't decide between Peru and Brazil, then see them both – and pretty much everything in between – on this 51-day extravaganza. Trek the legendary Inca Trail to Machu Picchu, cross the Bolivian Salt Flats, sip wine in Argentina, and hit the beach in Brazil. You'll get plenty of energetic culture, the great outdoors, and the company of other young travellers to keep you moving.
Highlights: Machu Picchu, Bolivian Salt Flats, Iguazu Falls
Duration: 51 days
Countries: Peru, Bolivia, Chile, Argentina, Uruguay, Brazil
Southern Divide
For those looking to experience the history, culture, and wilderness of South America, this three-week adventure through Peru, Bolivia, and Chile is packed full of some of the continent's most iconic and popular highlights. Explore the Sacred Valley and uncover Incan history high in the Andes at legendary Machu Picchu. Explore incredible landscapes at Salar de Uyuni and the Atacama Desert, and encounter vibrant culture at Lake Titicaca.
Highlights: Machu Picchu, Cusco, Bolivian Salt Flats
Duration: 21 days
Countries: Peru, Bolivia, Chile
Bolivia to Brazil: Highlands & Coastlines
Breathe in the Inca spirit of La Paz and dance in the tango palaces of Buenos Aires on this top adventure. Connecting the Andes to the Atlantic, you'll journey across the surreal landscapes of the Atacama Desert and the Salar de Uyuni. Feel like a sophisticate as you sip wine in Buenos Aires and pull back the curtain on the centre of the continent. Best of all, you'll do it in the company of other fun, young travellers. Don't choose between inspiring wilderness and urban sophistication – do it all.
Highlights: Bolivian Salt Flats, Iguazu Falls
Duration: 31 days
Countries: Bolivia, Chile, Argentina, Uruguay, Brazil
---
Top Itineraries for Destinations in South America (Single Country)
Here are some great itineraries which will help you discover a single country in South America.
Absolute Peru
Scan the canopy for wildlife from the comfort of our intimate and exclusive G Lodge Amazon, contemplate mountain vistas or take an optional flight over the Nazca Lines — this epic journey explores the geography, culture, and history of Peru, offering you the perfect blend of guided excursions and free time. Hike the Inca Trail, which rewards those willing to break a sweat with stunning views of ruins, mountainscapes, and cloud forest. And because we run our own treks, we can ensure the fair treatment of our porters and the quality of food, service, and equipment.
Highlights: Machu Picchu, Lima, Cusco, Amazon
Duration: 21 days
Countries: Peru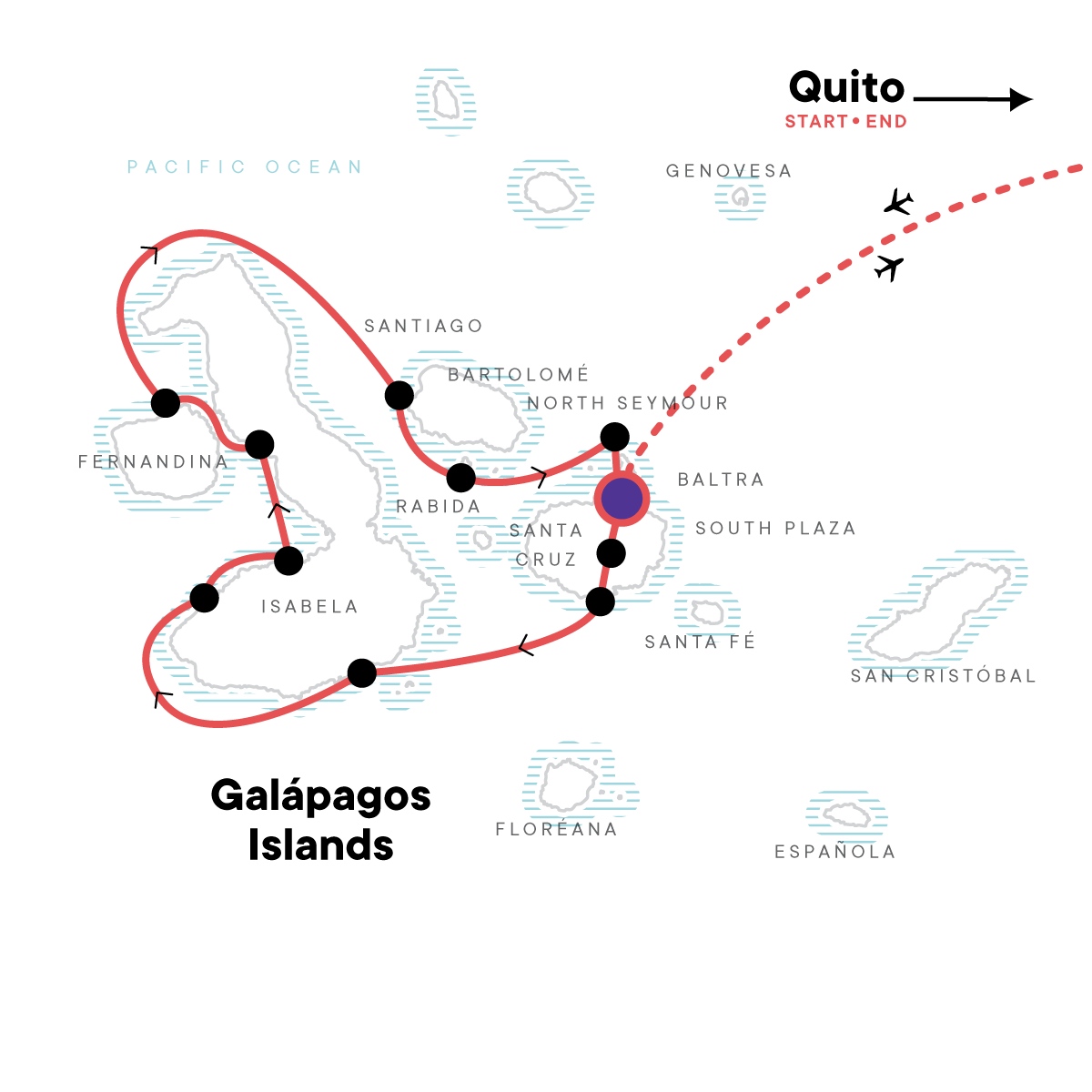 Galápagos — West & Central Islands aboard the Eden
Get up close and personal with an incredible array of animal species on this 8-day tour that hits the central, and west islands of the Galápagos. Along the way, you'll have plenty of time to spot and snap photos of giant land tortoises on Santa Cruz, Darwin's famed finches in Punta Moreno, and flightless cormorants on Fernandina. Do it all aboard the Eden, the latest addition to G Adventures' Galápagos fleet, outfitted with your comfort in mind.
Highlights: Visit and cruise around the Galapagos Islands
Duration: 8 days
Countries: Ecuador
Highlights of Bolivia
Expect the unexpected on an adventure through Bolivia, a country experiencing a surge in popularity due in part to its stunning landscapes and the rich cultural heritage of its indigenous populations. Explore the historic capital of Sucre and sky-high La Paz, experience life at a traditional hacienda, and watch the sunset from atop the sweeping Uyuni Salt Flats.
Highlights: Bolivian Salt Flats, La Paz
Duration: 8 days
Countries: Bolivia
Torres del Paine – The W Trek
Here's a quick six-day trip that's simply perfect as an add-on to other Patagonian adventures. Torres del Paine's W Trek is celebrated by active travellers globally as one of the most scenic treks anywhere. Spend four days walking through stunning landscapes surrounding Grey Glacier, French Valley, and the imposing three towers. While the trek alone is challenging enough, the real contest comes in needing to take your camera out so frequently.
Highlights: Hike of Las Torres, Grey Glacier, Lake Nordenskjöld
Duration: 6 days
Countries: Chile
Colombia Express
Where to go if you only have a week to experience a truly unique part of the world? The answer: Colombia. If you think a week isn't enough to tour the beaches, coffee regions, and metropolitan cities of this reemerging country, think again — we've made it possible. Check out the resurgence of culture, art, and food in Bogotá and Medellín, dive deep into the Caribbean vibe in Cartagena and enjoy the Latin-Caribbean fusion of flavours in local cuisine. All this in only nine days. Start packing now.
Highlights: Bogotá, Medellín, Cartagena, Armenia coffee tours
Duration: 9 days
Countries: Colombia
---
Summary
The itineraries suggested above should provide you with incredible experiences across South America and create memories that will last a lifetime. Should those suggested above not suit your needs then visit our partner G Adventures where you'll find lots more options. We also have other articles on South America (see further below) which will provide inspiration, tips and more to help you plan your travels.