Africa is home to incredible highlights, including nature and national parks, scenic coasts, barren deserts, and impressive cities. To truly explore as much as possible and discover both well know places and lesser-known gems then a guided tour can certainly help.
You'll find tours for Africa that will include just a single country to travel around, as well as multi-country trips. The tours can come packed too, with a fantastic itinerary, as well as accommodation, transport, attraction tickets, guided tours, meals and more included in the price. Another big benefit of guided tours is of course the guide, who will likely know the destination extremely well, allowing you to relax and travel easily and safely around.
Here are some of the best guided tours and itineraries to consider for Africa.
Disclaimer: Maps, descriptions and details provided via G Adventures. The details of these itineraries may change since publishing, so please fully check G Adventures before booking to make sure the tour offer exactly what you want and expect.
---
Guided Multi-Destination Itineraries for Africa
Here are some top itineraries that you might like for Africa and covering a variety of exciting destinations. With these, you'll be able to create bucket list memories and visit some of the most impressive natural spots on earth.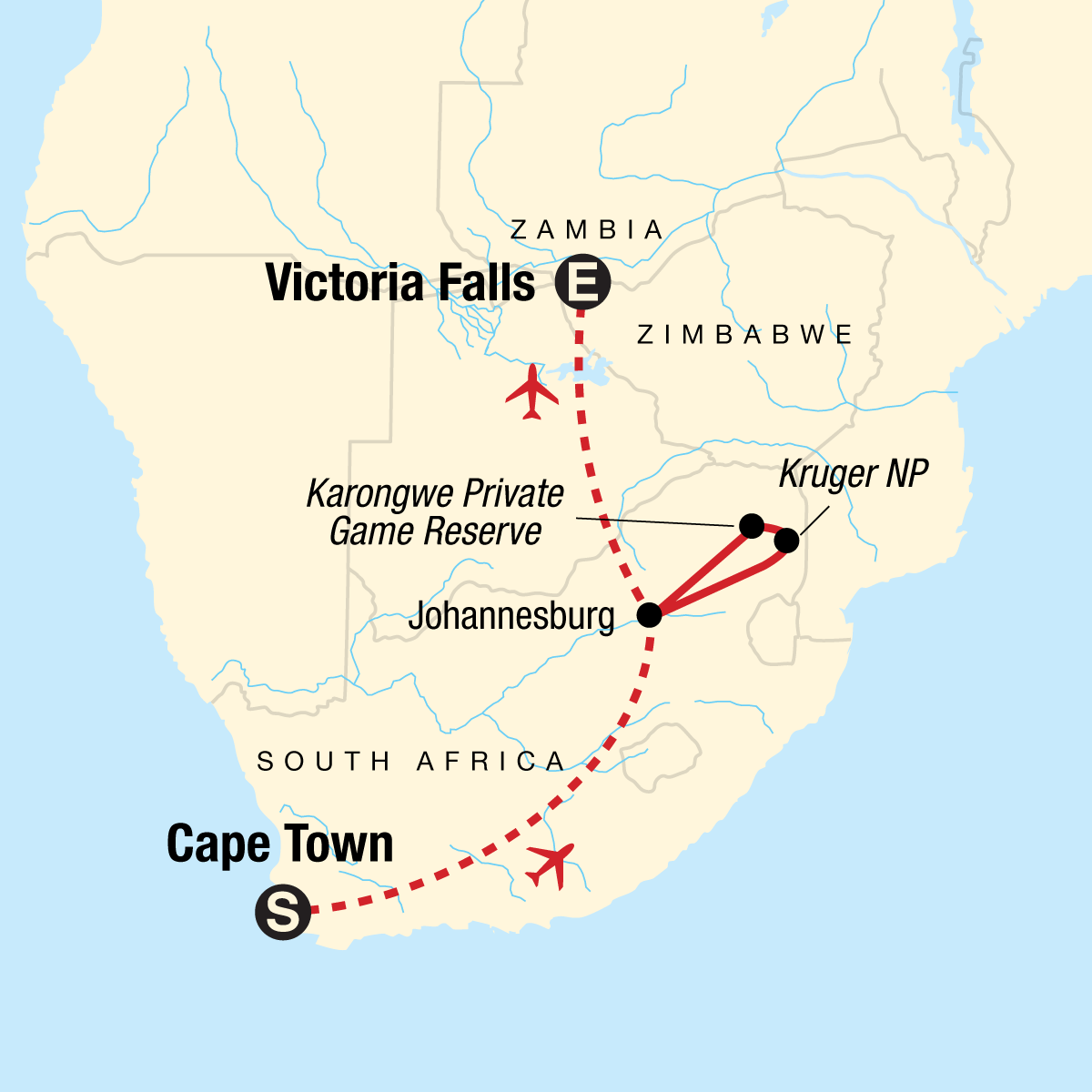 Explore Southern Africa
On this extraordinary adventure through southern Africa, journey from glittering Cape Town to the vast wilderness of Kruger National Park – home of the legendary "big five". Visit Soweto township, where Nelson Mandela once lived; enjoy a homemade dinner with a local family in a Zimbabwean village; and witness the awe-inspiring beauty of Victoria Falls, a UNESCO World Heritage site.
Highlights: Explore Cape Town, including Table Mountain or Cape Winelands. Enjoy a safari in Kruger National Park, and see the mighty Victoria Falls.
Duration: 12 days
Countries: Zimbabwe, South Africa
Delta & Falls Eastbound: Baobab Trees & River Views
Now's the time to explore Africa on your terms with this tour that's affordable for young travellers. This southern Africa experience might only be nine days long, but we've packed in enough adventure, cultural encounters, and straight-up wonderment you can relive for a lifetime. Feel the splash of the Okavango Delta from a dugout "mokoro" canoe and the mists of majestic Victoria Falls, meet the San Bushmen of the Kalahari Desert, and spot elephants in Chobe National Park. Wilderness camping keeps you in the thick of the action while travels aboard a Lando (overland adventure vehicle) ensure you don't miss a beat.
Highlights: See baobab trees of Gweta, safari drive in Chobe and Victoria Falls
Duration: 9 days
Countries: Zambia, Zimbabwe, Namibia, Botswana
Highlights of Southern Africa
When you put the word "highlights" in the name of a trip, you better be confident that it lives up to the hype. This trip does. Across 30 epic days, you'll go round-trip to Cape Town via Zimbabwe, Botswana, and Namibia — a new spin on one of our most popular routes — taking comfortable touring vehicles as well as staying in a mix of hotels and campsites for a well-rounded experience. Wildlife sightings and cultural moments come standard here — everything from searching for the "big five" in national parks to enjoying meals with local families. You've got memories made for a lifetime.
Highlights: Explore Cape Town, Kruger National Park, Victoria Falls, Etosha National Park, Swakopmund and lots more
Duration: 30 days
Countries: Botswana, Namibia, South Africa, Zimbabwe
Botswana & Victoria Falls Adventure
This Classic trip showcases some of the best that Africa has to offer. Journey from Namibia, across Botswana and on to Zimbabwe on an authentic African adventure that includes the elephants of Chobe National Park. Meet San Bushmen in the blazing Kalahari and explore the Okavango Delta by mokoro canoe. A knowledgeable CEO (Chief Experience Officer) will ensure your accommodation will provide the most authentic travel experience possible, including a night camping in the Delta, for a bedtime you'll never forget.
Highlights: Chobe National Park, Victoria Park and Okavango Delta
Duration: 8 days
Countries: Botswana, Namibia, South Africa, Zimbabwe
---
Top Itineraries for Destinations in Africa (Single Country)
Here are some great itineraries which will help you discover a single country in Africa. These will help you discover top cities, national parks and other highlights.
Wonders of Namibia
From flaming red sand dunes to arid woodlands that harbour some of the world's most majestic elephant herds, Namibia bursts with unique natural wonders. Set out on wildlife drives in the renowned Etosha National Park in search of lions, rhinos, giraffes, and the elusive leopard. Visit the Cheetah Conservation Fund to learn about efforts to protect these vulnerable cats, and delve into one of the continent's most dramatic landscapes—the timeless Namib desert.
Highlights: Sesriem national park, Swakopmund, Etosha National Park
Duration: 10 days
Countries: Namibia
Explore Cape Town & Kruger National Park
Spectacular scenery, vibrant culture, and a dramatic, inspiring past—South Africa has it all. Discover the charms of Cape Town, one of Africa's most beautiful cities, then travel to Johannesburg—former home of revolutionary leader Nelson Mandela and gateway to some of the world's most celebrated wildlife reserves. Scan the horizon of Kruger National Park for the "big five," spend time with a conservationist from the National Geographic's Big Cat Initiative, and enjoy unforgettable sunsets over the savanna.
Highlights: Explore Cape Town, Table Mountain or the Cape Winelands, Kruger National Park, Karongwe Private Game Reserve
Duration: 10 days
Countries: South Africa
Serengeti Safari & Zanzibar
There's no better way to see Tanzania than by sleeping where the wildlife roam, and you'll have the opportunity to do just that on this 12-day tour. Your safari through the Serengeti and Ngorongoro includes an overnight camp at the edge of a crater where lions, buffalo, and zebra like to wander. Then jet over to Zanzibar where historic towns and blissful beaches await. You'll leave with a host of postcard-worthy photos and memorable experiences in your pocket, and perhaps a few grains of sand, too.
Highlights: Mto wa Mbu village, Serengeti National Park, Ngorongoro, Arusha/Stone Town, Zanzibar Beach Resort
Duration: 12 days
Countries: Tanzania
Uganda Overland: Gorillas & Chimps
Now's the time to explore Africa on your terms with this tour that's affordable for young travellers. Take your love for all things furry and wild to the next level on a nine-day animal-spotting overland adventure in Uganda. Spot chimps in Kalinzu Forest and join experienced trackers while travelling deep into the Ugandan forests for an opportunity to spot endangered mountain gorillas in their natural habitat. Our Landos (overland adventure vehicles) are an adventurous and affordable way to see the highlights, while wilderness camping will keep you in the thick of the action.
Highlights: Gorilla Trek in Bwindi Impenetrable National Park, Lake Bunyonyi, Kalinzu Forest Reserve, Lake Mburo
Duration: 9 days
Countries: Tanzania
Kenya Safari Experience
Immerse yourself in Kenya's jaw-dropping landscapes and spectacular fauna on an exploration of three of the country's protected natural areas. Set out on safari in Masai Mara National Reserve, driving through acacia-dotted plains teeming with wildlife; learn about rhino conservation from a representative of the Kenya Wildlife Service; and spot wading hippos and hundreds of species of birds on the shores of Lake Nakuru.
Highlights: Lake Nakuru, Lake Nakuru national parks and Masai Mara National Reserve
Duration: 8 days
Countries: Kenya
---
Why should you book a guided tour for Africa?
Africa is a huge continent and a visit and deciding where and how exactly to travel around may seem daunting and confusing. If you travel through a guided tour you'll have the trip and itinerary planned for you as well as professional guides to help you explore and safely discover some of the best places. You'll also learn a lot more about Africa and the places you visit.
---
Where else can I book tours, activities and experiences online for Africa?
A few ideas of other places where you can find and book tours, activities and experiences for Africa include GetYourGuide, Viator and Civitatis. These companies offer a huge selection for most destinations in Africa and the world. You'll find everything from sightseeing tours, day trips, safaris, entry tickets and much more. Also read Best Places to Book Tours, Activities and Experiences Online where you can find more information on websites and services that help you find and book online.
---
Summary
By visiting Africa on an itinerary such as those above you should enjoy some fantastic experiences and leave the continent with memories that will last a lifetime. You can find more options through our partner G Adventures. We also have various articles on Africa which you'll find further below. These provide inspiration, tips and more to help you plan your travels.