Exotic, by definition, means something striking or excitingly different or unusual. In today's busy life, people tend to yearn for different things to make life a little bit more thrilling and exhilarating, be it a new hobby or going on a cool trip. In this article, you will discover 9 beautiful and unique holiday destinations that will promise a wonderful visit to a tropical paradise. Filled with warm weather, golden sunsets, amazing landscapes, white sandy beaches, and perfect adventures.
Here are nine of the most beautiful exotic destinations to visit around the world. Perfect for adding to your bucket list.
1. Maldives
Maldives is a beautiful island country and archipelagic state situated in Asia and located in the Indian Ocean. It is about 700 kilometres from the mainland. The Maldives has over 1000 separated islands characterized by its pure-white sandy beaches, exotic corals, colourful fish, and other unique marine life.
There are also many things to do in this tropical paradise especially if you are into adrenaline-filled watersports like water-flying, diving, fishing, snorkelling, parasailing, and surfing. But of course one of the main draws to this islands paradise is the wonderful beaches and resorts which are perfect for relaxing.
Other top attractions to check out are the island of Utheem, the Grand Mosque of Malé, the National Museum, and the Malé Friday Mosque.
Capital: Malé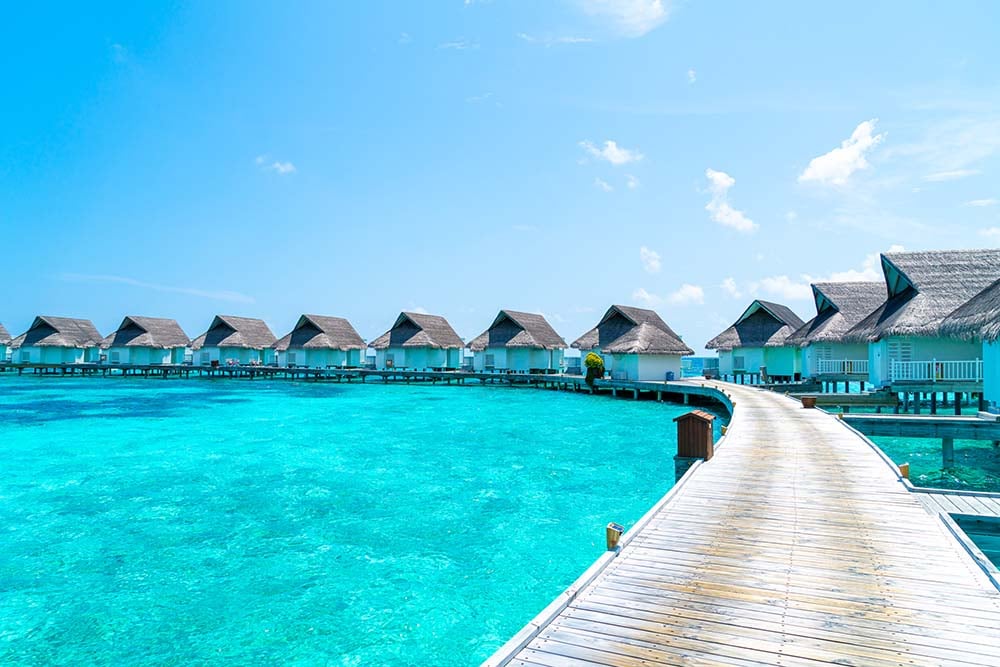 2. Fiji
Fiji is a dreamy archipelago/country located in the South Pacific Ocean and encircles the Koro Sea 2,100 km north of Auckland in New Zealand. Fiji is actually made of around 333 islands, however just two islands, Viti Levu and Vanua Levu, host 87 per cent of the population.
90 per cent of the country is mainly water and so Fiji is the perfect place for scuba diving and snorkelling as it encompasses more than 4000 square kilometres of wonderfully coloured reef gardens. The land gardens are also remarkable, so make sure to check the Garden of the Sleeping Giant found in the Nausori Highlands which has a huge collection of vibrant orchids and many other native plants.
Other top places to see in Fiji include the Mamanuca and Yasawa Islands, Bouma National Heritage Park in Taveuni Island, Denarau Island, Beqa Lagoon, and Navua River in Viti Levu.
Capital: Suva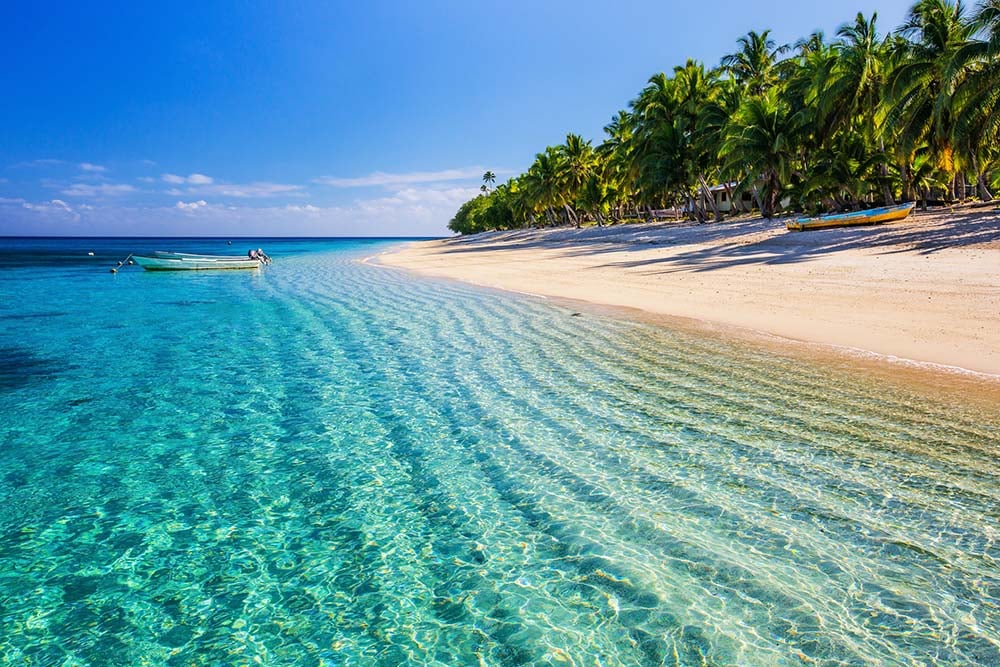 3. Mexico (coast): Tulum
Tulum used to be a simple and quiet fishing village and is now one of the most vibrant locations to be in Mexico! Famous for its amazing sandy beaches and beautiful weather, the first best thing to do is hit the beaches of Tulum and enjoy a relaxing day. Some of the best beaches to visiting in this area include Playa Paraíso, Playa Ruinas, Akumal Beach, and Las Palmas Public Beach. Another relaxing activity is taking a mud bath in Laguna de Kaan Luum (lagoon).
The Sian Ka'an Biosphere in Tulum houses thousands of different species of plants and wildlife, birds, dolphins, turtles, fish and is a must-visit on your trip to Tulum.
Moreover, the Tulum Mayan Ruins, Caves at Cenote Caracol, the Cobá ruins, and the famous "Ven a la Luz" (Come into Light) sculpture by artist Daniel Popper, are all attractions not to be missed during a visit to Tulum.
Capital: Mexico City
See Hotels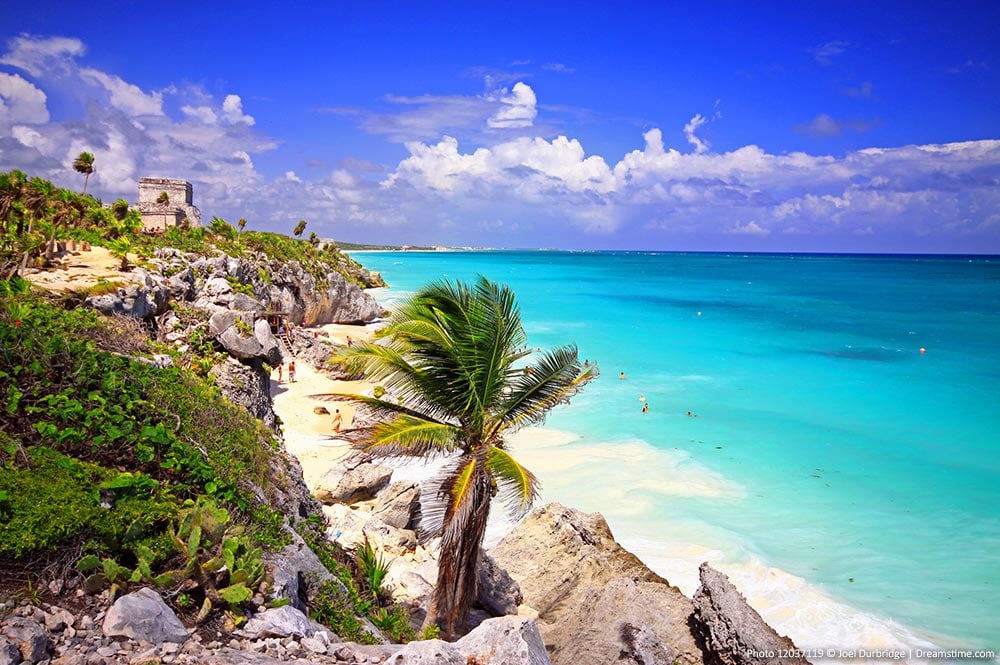 You may like:
15 Most Beautiful and Best Places to Visit in Mexico
4. Mauritius
Mauritius is an island country located in the Indian Ocean, famous for its amazing beaches, rainforests, hiking trails, waterfalls, lagoons, and coral reefs. The small village of Chamarel in Mauritius is the most visited natural site in the country since it houses the highest waterfall (over 100 meters) on the island and is known for its seven-coloured earth (brown, red, green, violet, purple, yellow and blue). Moreover, the Curious Corner of Chamarel is a must-see museum where you can find mirror-mazes, puzzles, and optical illusions.
If you are looking for a luxurious stay, then try to hit the exquisite sandy shores of Île aux Cerfs, a private island in Mauritius owned by a five-star hotel.
Other things to see include Trou aux Cerfs Volcano, Bois Cheri Plantation, Ebony Forest Reserve, La Vanille Nature Park, and Black River Gorges National Park.
Capital: Port Louis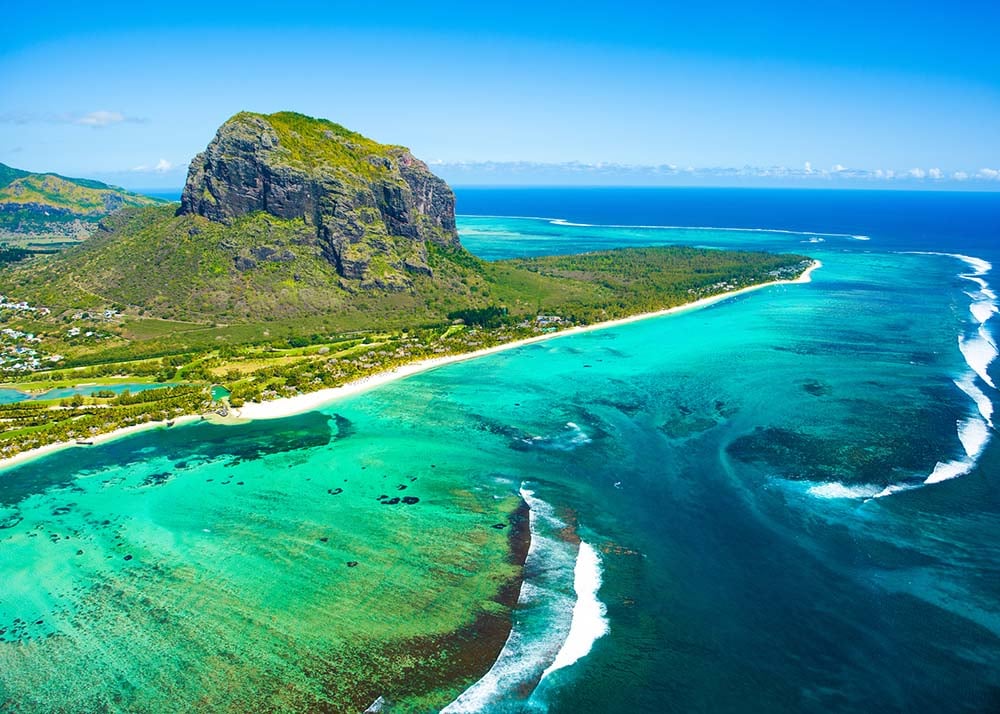 5. Ko Lipe, Thailand
Ko Lipe is a gorgeous island in Thailand located in the Andaman Sea near Malaysia and home to many aboriginal Malay people, known as the Urak Lawoi. Although small in size, Ko Lipe is an island rich in activities, history, culture, great food, and all elements needed for an exotic holiday trip.
Beaches you can't miss are Pattaya Beach, Sunset Beach (best place to watch the sunset), and Sunrise Beach (best place to watch the sunrise). On these beaches you can also enjoy a great snorkelling and scuba diving trip in the transparent waters of Ko Lipe whilst witnessing the many tropical fish and coral reefs found there. Also, you can book a boat tour and discover the island from the waters.
There are also many ways to relax on Ko Lipe besides a beach day; you can find many Thai massage spas and parlours, yoga and medications classes there.
Capital: Bangkok
Find Hotels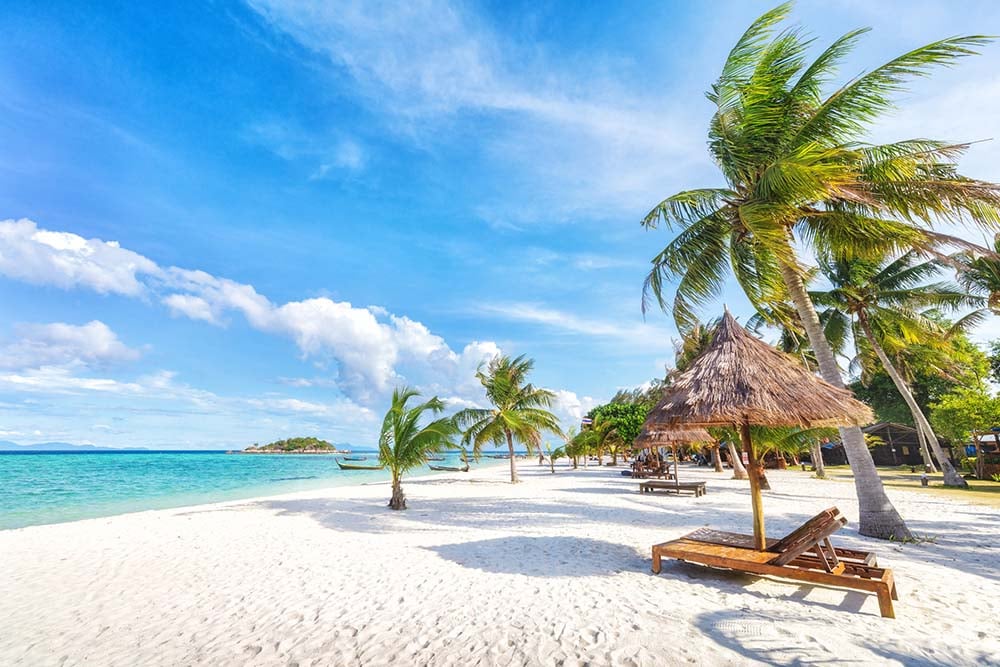 You may like:
Beautiful Beach and Island Destinations in Thailand
6. Palawan, Philippines
Palawan is an amazing archipelago in the Philippines situated in the region of Mimaropa. Palawan is home to the Underground River in Puerto Princesa, which was officially recognized in 2012 as one of the "New 7 Wonders of Nature". While there, enjoy a river tour and discover the caves' magnificent natural formations of stalactite and stalagmites.
Another amazing thing to check out is Tubbataha Reefs Natural Park which is a haven for divers. It is a UNESCO World Heritage Site due to the fact that it houses almost half of the world's coral species, more than 600 species of fish, and many different species of whales, sharks, and dolphins.
Other things to enjoy while visiting in Palawan are Bacuit Bay Islands, Kayangan Lake, Small Lagoon, El Nido beaches and Coron Bay Shipwrecks.
Capital: Puerto Princesa
See Accommodation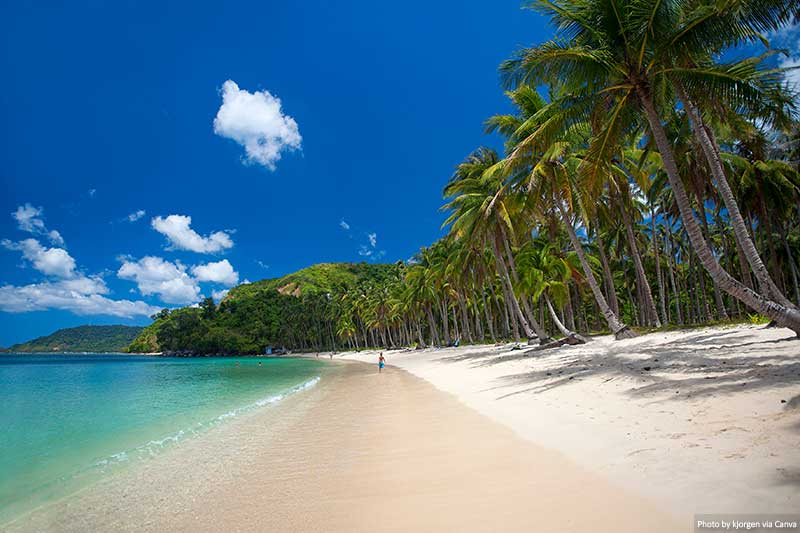 7. Aruba
Located in the Caribbean, Aruba is a Dutch Island famous for its endless sunshine; in fact, Aruba enjoys the most days of sun in comparison to other Caribbean islands. Aruba is also famous for its golden beaches, bustling nightlife, luxurious resorts, and amazing hotels.
While in Aruba, make sure to enjoy a beach day at Hadicurari Beach, Manchebo Beach and Spa, Eagle Beach, Boca Catalina, or Palm beach.
Also, you can visit the Casino at Hyatt Regency Aruba, the Aruba Donkey Sanctuary, the butterfly farm and also benefit from an amazing hike at Arikok National Park.
Capital: Oranjestad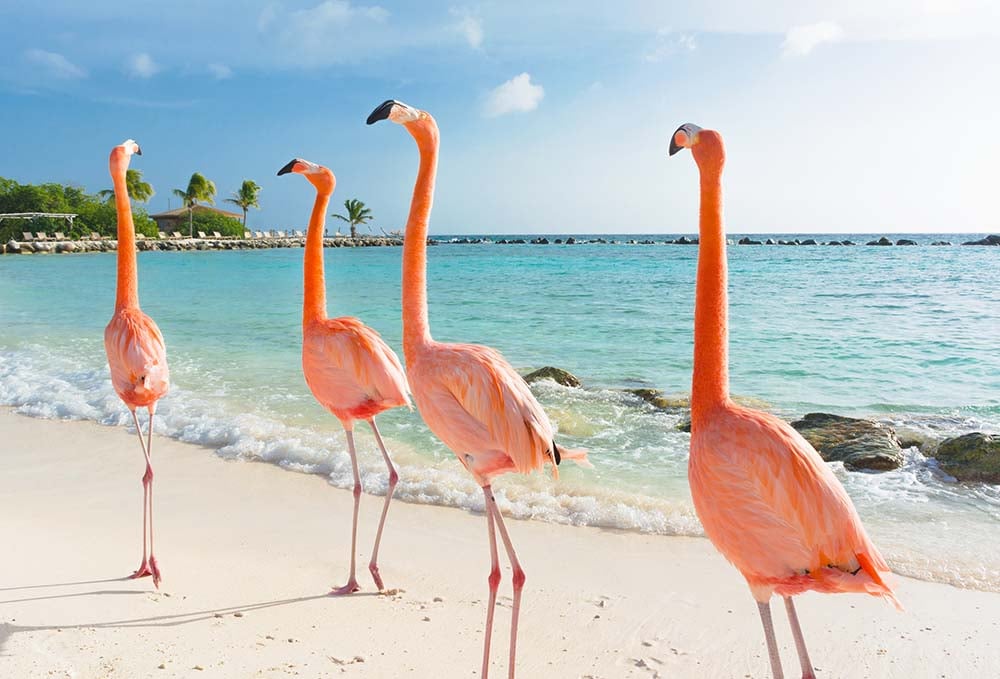 You may like:
Beautiful and Must-visit Caribbean Islands
8. Seychelles
Seychelles is an outstanding archipelago that constitutes 115 islands in the Indian Ocean. It has many beaches, several UNESCO-listed natural reserves, virgin jungles and forests, coral reefs, and some rare animals like the Aldabra tortoises (Aldabra Atoll) and the White Fairy tern.
Seychelles has endless gorgeous beaches to visit and enjoy. Make sure to visit top beaches such as Anse Lazio (Chevalier Bay), Petite Anse, Anse Georgette, Anse La Passe, Beau Vallon Beach, and Anse Intendance.
Seychelles is also known for its natural reserves and parks where you can have an adventurous day of hiking and trekking. So, make sure to visit St Anne Marine National Park, Morne Seychellois National Park, Vallée de Mai National Park, and Aride Island Nature Reserve.
Capital: Victoria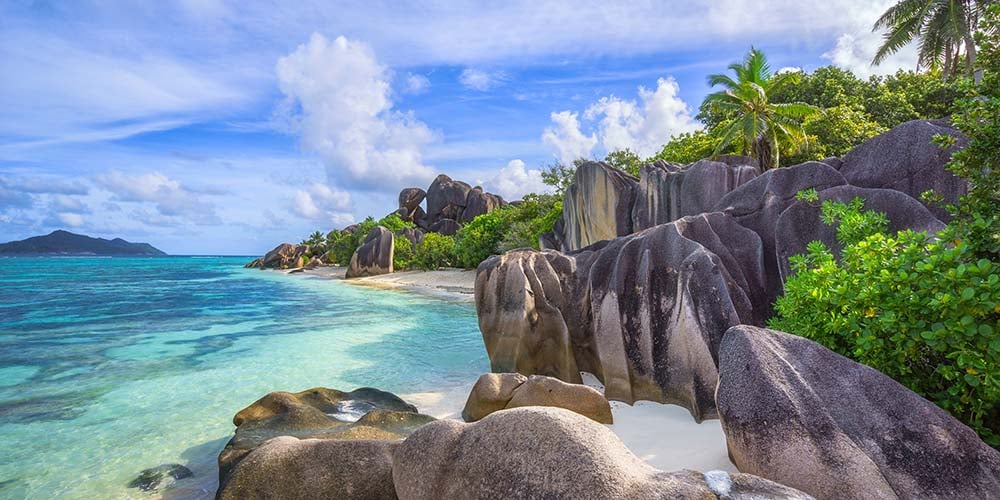 9. Gili islands
The Gili Islands are made of 3 small islands located in Indonesia: Gili Meno, Gili Trawangan (largest), and Gili Air.
Gili Trawangan is the largest and most popular of the islands. While there, enjoy a relaxing beach day at Villa Almarik, Sunset beach, Malibu beach or the Good Heart Beach. You can also enjoy an amazing time snorkelling/diving and discovering the many exotic colourful fish and sea turtles of the island. A popular and picturesque thing to do is going to the famous Gili Ocean Swings located all over the island during sunset time (for best pictures). Moreover, the best and cheapest place to eat and shop at is the Gili Trawangan Night Market.
Gili Meno, is a smaller island and can actually be discovered in 90 minutes by walking and enjoying the gorgeous sceneries of the island. Interesting things to check there are the Asin Lake (saltwater lake), the Mangrove Forest, the Green Turtle Captivity, and the Gili Meno Bird Park.
Gili Air is the perfect place to rest and relax on turquoise-coloured beaches. The Slow Spa on Gili Air offers a relaxing day with a great selection of treatments found there. Another top thing to do there is snorkelling and diving to discover the underwater sculptures.
Capital: Jakarta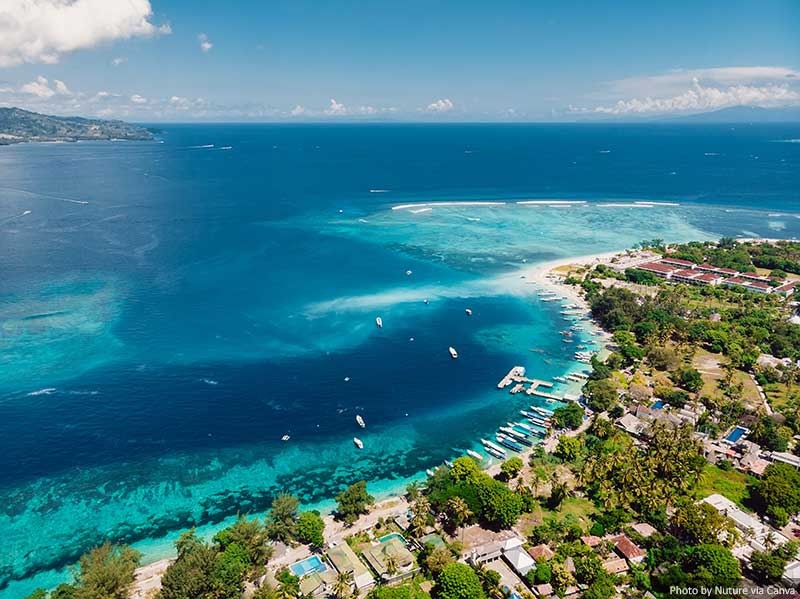 You may like:
10 Beautiful Beaches to Visit in Indonesia
Summary
If you are an adventurous soul looking to escape the monotonous rhythm of day-to-day life, then a trip to an exotic island is the way to go. You will get to see and experience things you never imagined seeing; from jaw-dropping landscapes, wildlife, views, and gorgeous beaches to new cultures, history, food, and unique life-changing activities. The destinations listed above are just some of the top exotic locations in the world and will guarantee you the thrill and desire you may have been seeking.
Find Accommodation
(function() { window.mc4wp = window.mc4wp || { listeners: [], forms: { on: function(evt, cb) { window.mc4wp.listeners.push( { event : evt, callback: cb } ); } } } })();